School Year 2020 – 2021
HISTORY WORKSHOP IN 3RD CLASS WITH SARA MEYERS THROUGH THE HERITAGE IN SCHOOL SCHEME.


3rd Class had a  free 3 hour workshop about monks, monasteries and Vikings.  It was great fun.  Here are some photos.
OUR CUBIST PORTRAITS INSPIRED BY PABLO PICASSO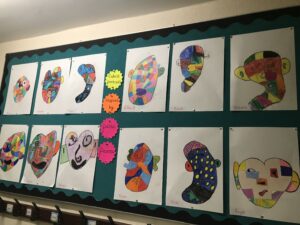 We have created a lovely Autumn Harvest Collage to celebrate the Harvest season.  We made Autumn trees using our handprints for the trunks and branches of the trees and we used cotton buds and coloured paints to create the falling Autumn leaves.
We also created a corn wreath using dotting and our pumpkins were created with dotted designs as well.
We had great fun making the collage and learning a nice poem called 'The Perfect Pumpkin Pick'.

School Year 2019 – 2020
Huge congratulations to 3rd class and teachers Mrs Copeland and Ms Ferris who's entry has been chosen by ESB Science Blast for ESB's advertising campaign.   ESB is already running 3rd classes submission on Dublin Buses and the East Link Bridge and it will be in the National newspapers this weekend. This is a major achievement – particularly as there were so many entries submitted on a National Level.
3rd Class are very excited to be attending the ESB Science Blast on  Tuesday 3rd March where they will present their question: How do worms move? at their stand. They have thoroughly enjoyed the work they have completed for the project and look forward to the day out.
3rd class are busy preparing their Science Project for the ESB Science Blast at the beginning of March. The children have chosen to study the Movement of worms.
We have dissected (a paper worm!) and labelled the parts of the worm as well as creating a wormery in our classroom. We have been writing creative stories about worms and doing beautiful artistic worm tunnels! We have been using the iPads to research interesting facts about worms and look forward to experimenting with worms in the near future.