Blue Star Flag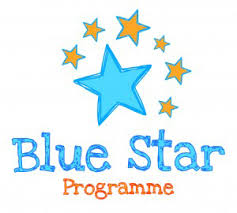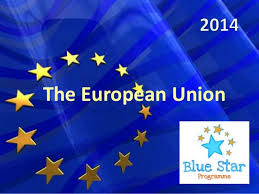 This year in Gorey Central School, pupils in 4th, 5th and 6th class are participating in the Blue Star Programme. This will require us to learn about the EU, including about its foundation and development, the member countries and their culture and how the institution operates. We hope to continue to update the website with our progress throughout the year so please keep an eye out.
The Blue Star Programme is an education initiative for primary school pupils across Ireland. The idea of the Programme is simple: to foster better understanding and knowledge of the European Union and how it affects the lives of Irish citizens among primary pupils through classroom projects and activities.
Pupils of all ages, from primary schools all over Ireland, are challenged to get creative and think about Europe by carrying out projects in relation to four key elements: the history, geography, culture and creativity, and Institutions of the EU.
The Blue Star Programme aims to introduce participants (pupils, teachers, parents and the wider community) to the EU, what it means and how it works. The Programme also aims to foster a strong sense of awareness of the EU among its participants that reaches far beyond the school walls and out into the wider community.
The Blue Star Programme is a venture of the Communicating Europe Initiative, supported by the Office of the Minister of State for European Affairs, Data Protection and the EU Digital Single Market in the Department of the Taoiseach, the Department of Education and Skills, the European Commission Representation in Ireland and the European Parliament Information Office in Ireland.
If you would like some further information on the programme itself, please check out:
Some links that may be of interest to the children include:
Some Blue Star Flag Projects
Vincent Van Gogh
4th/5th class learned about Vincent Van Gogh, a famous painter from the Netherlands, and we created our own versions of 'The Starry Night' using only four colours; yellow, blue, white and black.
Michelangelo
4th/5th class also learned about Michelangelo, a famous Italian artist from the Renaissance period and we looked at his famous paintings within the Sistine Chapel in Rome, Italy. We decided to see what it must have been like for him when he had to paint the Sistine Chapel ceiling on the flat of his back for four years. Our arms were tired after 30 minutes!!
Pompeii
4th/5th class  studied the ancient city of Pompeii, in Italy, and learned about the history of the disaster that struck on the day that Mount Vesuvius erupted. They further extended this and learned about volcanic eruptions. They created their own mini volcanoes in Art and then used them in Science to experiment with reactions between materials to cause an 'eruption'.