Here are galleries showing some of the current work / projects of our classes, just click on a photo to enlarge it. Click on the link below for our latest school from April and May 2019.
""
Senior Infants have been very busy this month.  We have been doing the topic of The Farm in Aistear and we loved setting up farms in The Small World and painting pictures of farms.  As Gaeilge the children have been learning about Eadaí and Naomh Pádraig.  We learnt songs and poems to celebrate Lá Fhéile Pádraig.  In Maths we have been learning about the number 9 and we made our own football teams that had 9 football players.  We have also learned lots of songs and poems this month.  We particularly enjoyed "Busy Farmer Ben" and "Oats and Beans and Barley Grow" and lots of other poems and songs about The Farm.
We are enjoying our dance lessons with Ciara and we learnt some Irish dances.  We have great fun in GAA and AI.  We have been playing really fun games and practicing our skills.
Mrs Cheryl Poole came to visit us and Junior Infancy and read us two brilliant farm books that she wrote.  We really enjoyed listening to her stories.
Third & Fourth Class
3rd Class

Third class have had a busy start to the year.  We've been learning about vikings and Egyptians and about all the different modes of transport, old and new.  We even learned about a car that can travel at speeds of over 1000km/hr!  In Drama we have started using puppets and changing our voices to suit the character as pictured above.  The highlight of the month has definitely been making slime.  We had a slow start to the experiment which just goes to show that Science takes a bit of trial and error!  We were determined though and the amazing results are pictured above.  The children and learned that chemical reactions can change the state of certain ingredients when combined and they certainly had fun doing it!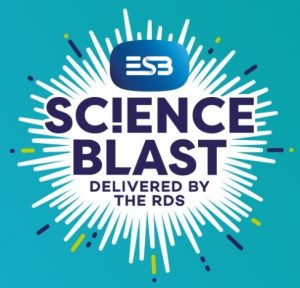 On Thursday 7th March 2019, 3rd Class travelled to the RDS in Dublin to present their project on Magnetism. The children worked very hard on this in school and on the day they had a stand to present the project . We were blown away by how enthusiastic and amazing they were at sharing their project with the other visiting children and the way they answered all the judge's questions with such ease and confidence. They really did the school and us proud. While there the children visited other exhibitions by other schools and Scientists and also got to watch two fantastic shows. The children smiled from start to finish and left the exhibition with ambition and a beautiful award. Roll on next year!



3rd Class were very busy recently with lots of project entries.   We entered the Irish Aid Awards for the first time with our Classroom Rainwater Harvester, made from recycled materials, which is now a feature in the school garden and easy access for watering our new plants.  We have been very busy having fun creating the new school garden as we have made Positivity Rocks, (special thanks for all the help from our parent helper Ms Kelly) bee hotels and bird feeders.  We have also planted some of the new raised boxes.  We have kitchen herbs and Bee Bombz (flowers to attract bees to pollinate) as well as planting out all our seeds from our current Incredible Edibles project.  We have had great excitement with this project, having in a local strawberry farmer to plant strawberries with the class, Walsh's Mushrooms supplied the class with mushroom kits to watch them grow, planting sunflowers and much more exciting stuff to come with this project as well.  We even got Awarded Incredible Edibles Classroom of the Week recently! Well done 3rd Class.
'Spoonita' on Gorey Main Street ran a teaspoon competition for Easter so many children in 3rd class created teaspoon entries.  This was great fun do do and all entries received a ginormous cookie for their efforts! We were also very excited and proud to hear that our own Benjamin Blair won the overall Senior Class category and won the fabulous prize of a 2 hour Cooking workshop in Spoonita over the Easter holidays with Head Chef Vivien Galkine from Spoonita.  Well done Benjamin and all the entries.

During May we had a fantastic and very educational trip to Altamont gardens.  We did a bug hunt, a scavenger hunt, we identified leaves on all the different types of trees, we did a habitat drawing by the river, had a fantastic bird and flower talk by local groundskeeper Paul and of course the Heritage Specialist Lorraine Doyle gave a fantastic talk and hands on workshop of pond and river life where the children identified the different creatures living in the pond and river.  Third class would like to thank the PTA for sponsoring this fantastic trip that will be one the children will never forget.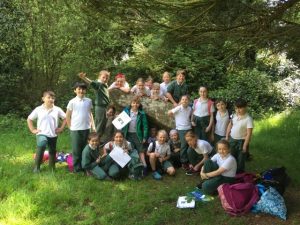 The children in third class have also been very busy working on their Incredible Edibles Project which is due next month. We have helped to create and maintain the new school garden!  You can now visit our compost area, bee hotels, positivity rocks, sunflowers, herbs, fruit and vegetables, bird feeder, rainwater harvester and insect hotel to name just a few!  We are busy completing our log book for the project and one of the criteria was to cook a meal using potatoes, vegetables and herbs.  The children peeled potatoes for chips, made homemade hidden vegetable pizza sauce, pizza bases and toppings to create a fab meal. Well done third class!  Let the fun continue with our upcoming Drama show for the whole school and parents: 'There's a Sunflower in my Supper'!.

4th Class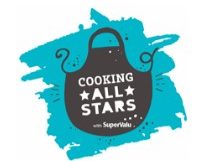 The Cooking All Stars programme is underway in 4th Class. The children got started with the techniques of slicing and whisking to create a lovely Fruit Salad. This was thoroughly enjoyed and I've never seen so much fruit consumed and enjoyed in such a short space of time! Other stations were learning about food labelling and food allergies whilst awaiting their turn to cook.
All food and equipment has been generously sponsored by Pettitt's Super Valu in Gorey. This week we are cooking Quesadillas and very much looking forward to it.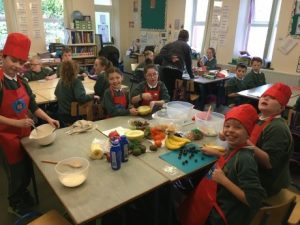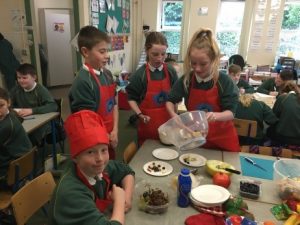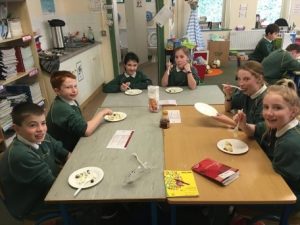 We have recently celebrated World Book Day where there was great excitement in sharing the children's favourite book characters and outfits, which searching for Mr. Bater's lost crayons!
The children were also given the opportunity to see the infamous Heineken Cup.
4th class has taken part in a number of Rhythm and Shakes lessons with a fantastic music teacher, Cathy.  The children thoroughly enjoyed exploring the music from a variety of cultures around the world.
4th class have enjoyed dance lessons recently, exploring a range of dance styles from Hip Hop to Irish dancing.
The children of 4th class have been learning about Medieval villages and created their very own medieval villages in pairs using clay, paint and recyclable materials.
Fifth & Sixth Class
The children in 5th and 6th class are very excited for all the upcoming events that will be happening in school over the next two months, including tin whistle lessons, drama lessons, cricket lessons for 6th class ahead of a blitz, preparation for the inter-schools Soccer Blitz, preparation for the Choral Festival in Ferns, sports day, the JEP showcase in the RDS, and, of course, their school tour to the International Outdoor Adventure Centre (6th class) and to Castlecomer Discover Park (5th class).
Seal Rescue Ireland Workshop and Adoption
Ms McDermott's students visited the library for a workshop from Seal Rescue Ireland.  This consisted of their interactive Marine Conservation Discovery Tour exploring seal ecology, threats to both seals and the oceans, as well as what everyone can do to help reduce their human impact.  A follow-up eco brick workshop allowed a chance for the children to have a go at eco bricking, learning the importance of correctly disposing of soft plastics and inspiring them to start eco bricking at home and school.  We were also able to sponsor and adopt one of the seal pups in the rescue, where the class followed the rehabilitation progress of Pistachio the pup.  We have received updates over the last few weeks and some of the students attended her return to the sea on Courtowns North Beach last week.
Junior Entrepreneur Programme
5th and 6th class recently hosted our Junior Entrepreneur Programme Showcase Day!  The students created decorated pencil-holders jars, decorated pencils and some tasty treats.  We also held a raffle and a 'guess how many eggs in the jar' competition.
We were delighted to see so may family, friends and members of our school community coming to visit and support us on the day.  It was a great success and we practically sold out so thank you to everyone who attended.
We have completed our Junior Entrepreneur Programme folder to be sent away to illustrate all of the hard work that we have put into our project this year.  We have also been invited to attend the National Junior Entrepreneur Showcase in the RDS on Monday 20th May so we are really looking forward to that!
Play Rugby Leinster Festival
6th class travelled to Ashbourne RFC to take part in the Aldi Play Rugby Festival.  They had the opportunity to play against many different teams from all over Leinster.  Fortunately the weather was great and we all have a fabulous day.
Pangea Mathematics Competition
All of the students in 5th and 6th class took park in the Pangea Maths Olympics competition.  The Maths Olympics is a fun and challenging competition for the primary and secondary students.  A huge congratulations to Eli Page, who was selected in the 5th class category as a result of the amazing scores.  He has been invited to attend the national final in Trinity College Dublin and we wish him the best of luck with this.
Heritage Ireland 2030
Heritage Ireland ran a competition aimed at 5th and 6th classes to design an emoji that reflects the pupil's ideas in relation to heritage, history and tradition in Ireland.  Well done to all pupils who entered their creations to the county stages.  Congratulations to Rosie Rothwell (5th class), who placed first in her year group and to Sina While (6th class) who placed third in her year group.  Their designs will now be entered into the competition at a regional final.  Good luck girls.
Earlier this year
We have been very busy learning about the artist-Wassily Kandinsky (1866-1944). Kandinsky was a Russian painter and he believed that colours had a soul. Kandinsky explored what colours mean and the feelings associated with them. Many people believe that he was the first abstract painter. Please take a look at our abstract pictures and our 'concentric circle' paintings. Enjoy! Ms. Furney and 5th/6th class.
5th and 6th class learned about 'Pointillism' and the artist-George Seurat. Pointillism consists of small, painted dots used to create a pattern/picture. We created fruit bowls and we integrated art with the topic of Aboriginal people in history. I think you'll agree that the pupils created beautiful pictures and wonderful indigenous art, just like the Aborigines!
DIGITAL SCHOOLS:   Following our 'Digital School of Excellence' award last year, Ms. Furney has continued with Digital Schools work.  Ms Furney informs teacher of various websites that they can use across many curricular areas.  The pupils benefit greatly from the use of technology, websites and apps to bring topics alive in the classroom through using the interactive whiteboards and Ipads.  Ms Furney also attended a course recently which was based on Digital Learning and she picked up many more ideas and ways to incorporate Digital Learning into the classroom.  Watch this space for further information and updates!